English
Bolme Pensjonat is a boarding house on road fv 65 in the municipality of Rindal in the Tronderlag county. We can offer 10 rooms and a total of 20 beds, WC, and showers. We also feature function rooms, meeting rooms, a restaurant (open 12-18) and fully licensed bar.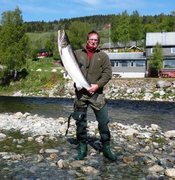 Our first class service, experience and expertise are devoted to ensuring that you will enjoy your stay at Bolme pensjonat.
The Surna river, one of the best salmon rivers in Norway, runs just past the house. The Trollheimen peaks tower up in the distance, and you are surrounded by the wild and beautiful nature of central Norway. Welcome to Bolme Pensjonat! Stay with us and you have found the ideal base for your Norwagian holliday. A trip to Trondheim, only 90 kilometers away, will make a pleasant change, and the slightly longer trip to Kristiansund and the Atlantic Road is
highly recommended. Our local rural museum is also well worth a visit.